ICT Youth Empowerment Program in Abuja Nigeria

2020 NIGERIA SCHOLARSHIP is organized to provide Scholarship assistance to deserving youths in Nigeria -- School Leavers, None Graduate, Under Graduates, Graduates, Individuals who want to enhance their technical skill-sets and Nigerian students in general who aspire to build a career in I.T.
This is a partially funded scholarship to 50 Nigerian youths. (scholarship Sponsors -75% —Participants -25%)
The aim of this scholarship is to help more Nigerian youths to create a career path in Computer and ICT
The training is purely practical and it's a career based training, that means the participant will not just learn the skills but will also learn how to set up a business or get their dream job using the skills they have learnt.
2020 Digital Skill Scholarship Registration is now ongoing
Screening start from Wed. 1st May 2020
Training starts on Monday 20th May 2020
Jobs will be given (internship level) to the 2 best students
NOTE: No previous skill is required —Smartness and willingness to learn are the major factors that will see you through
IS THIS SCHOLARSHIP FOR YOU
This is an opportunity any person who really wants to grow in this digital age needs either as a business owner, employee or job seeker. If you have a business, the knowledge of digital marketing helps you to attract more customers and make more sales.
As a job seeker, it helps you to become a hot cake in the labour market. Companies are now in great need of digital marketing professional to take their business online
LISTEN TO ONE OF THE PAST BENEFICIARIES
Hurry up, you could be the chosen one
2020 Digital Skill Scholarship Registration is now ongoing
AVAILABLE PROGRAMS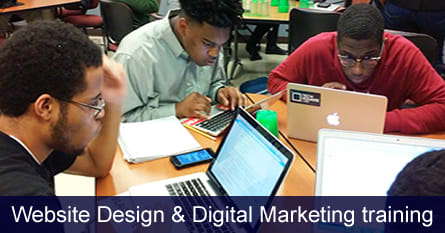 Get Empowered today—learn Website Design and Digital Marketing Skills
Learn step by step how to become a website design and digital marketing consultant
 Learn how to promote any business using digital tools , build personal brand and become a social media influencer
This practical hands-on training will cover
*Website Design Training
*Digital marketing  Training
**Certificate issued at the end of the training
Duration: 3 weeks.
SCHOLARSHIP SPONSORED BY:
The Training Venue
Center for ICT and Computer Training Abuja Nigeria, West Africa
Suite SF 5 Anafaraa Plaza by MIB plaza first avenue Gwarinpa Abuja Nigeria
Our scholarship on computer and ICT  training in Nigeria has helped so many people young and old to acquire computer and ICT skills that have helped them to move ahead in life.
Click below to share this scholarship with your friends and families